Wereley Elected Royal Aeronautical Society Fellow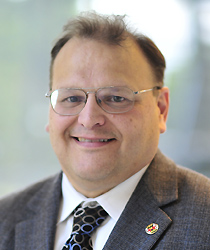 Department of Aerospace Engineering Minta Martin Professor Norman Wereley has been named a Royal Aeronautical Society (RAeS) Fellow. Wereley—who served as department chair from 2012 to 2021—is a key contributor to the Alfred Gessow Rotorcraft Center and the director of the Composites Research Lab.
RAes Fellows are selected for their outstanding scientific and technical contributions in the profession of aeronautics and have attained positions of high responsibility, in conjunction with longstanding experience and high quality accomplishments, in the profession of aeronautics.
Wereley was elected for his contributions to the advancement of adaptive structures and materials for aerospace applications, especially in helicopters.
Through his research, Wereley pioneered a new technology area for aerospace systems—the use of magnetorheological fluids to enhance stability and to mitigate vibration and shock.
He has actively transitioned technologies from his laboratory to industry and led the development of numerous applications, including: a semi-active magnetorheological seat systems for protection against whole body vibration and shock loads resulting from crash or blast events in helicopters and ground vehicles; magnetorheological fluid elastomeric dampers for helicopter rotor stability augmentation; magnetorheological landing gear systems for helicopters; and actuation systems for trailing edge flaps in helicopter rotor blades.
In recognition of his work, he's received the American Society of Mechanical Engineers' 2012 Adaptive Structures Prize, the Society of Photo-Optical Instrumentation Engineers' (SPIE) 2013 Smart Structures and Materials Lifetime Achievement Award, the Vertical Flight Society's Harry T. Jensen Award in Crashworthiness (2011) and the SPIE Smart Structures and Materials Product Implementation Award (2013) for the development and flight test of the SH-60 Seahawk semi-active magnetorheological seating system.
He has published over 230 journal articles, 20 book chapters, is a co-inventor on over 20 issued patents. He was also co-editor of "Plants and Mechanical Motion: A Synthetic Approach to Plants and Mechanical Motion" (2012) and editor of "Magnetorheology: Advances and Applications" (2013) from the Royal Society of Chemistry.
In addition to RAeS, Wereley is a Fellow of the American Institute of Aeronautics and Astronautics (AIAA), the Vertical Flight Society (formerly the American Helicopter Society), the American Society of Mechanical Engineers (ASME), the Institute of Physics, and the Society of Photo-Optical Instrumentation Engineers (SPIE).
Wereley has a B.S. in Mechanical Engineering (Honors) from McGill University and M.S. and Ph.D. from the Massachusetts Institute of Technology in Aeronautics and Astronautics.
Founded in 1866, the RAeS is the oldest aeronautical society in the world dedicated to the global aerospace community.
For more information on Wereley and his research, visit his faculty webpage.
Published January 28, 2022