Dr. Chopra Receives Highest Honor of AHS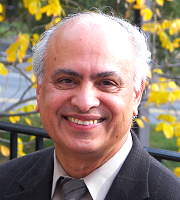 Recently the American Helicopter Society (AHS) bestowed Dr. Inderjit Chopra, Director of Alfred Gessow Rotorcraft Center, with the Dr. Alexander Klemin Award. The award is given to individuals for notable achievement in advancing the field of vertical flight aeronautics. Dr. Chopra was recognized for his accomplishments in the development of a smart rotor system, developing high performance rotary wing and flapping wing micro air vehicles; demonstrating the potential of composite material couplings on rotor stability and vibratory loads; developing the first finite element analysis of bearingless rotors; and formulating the first simple and precise model for an elastomeric rotor damper.
Dr. Chopra has been a professor at the University of Maryland since 1981 and Director of the Alfred Gessow Rotorcraft Center since 1991. He is a distinguished fellow in the American Institute of Aeronautics and Astronautics, American Helicopter Society, Aeronautical Society of India, and the American Society for Mechanical Engineers.
Published November 3, 2009