UMD Team Lands First Place in AHS Student Design Competition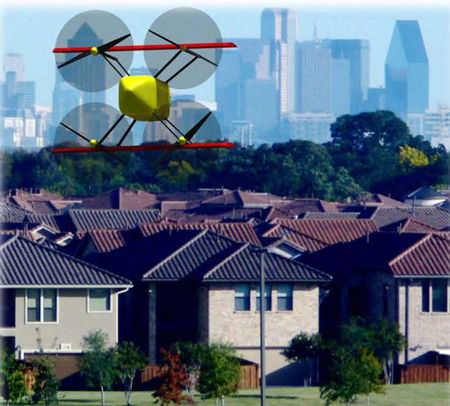 A University of Maryland (UMD) team landed first place in the Graduate category of the American Helicopter Society's 32nd Annual Student Design Competition. This year's competition, sponsored by The Boeing Company, challenged students to design small unmanned aerial systems (UAS) capable of providing rapid aerial delivery of small cargoes, ranging from less than a pound to twenty pounds, from a larger cargo vehicle or central warehouse.
This year's UMD team included graduate students Stacy Sidle, Chris Bogdanowicz, Brandon Gudenius, Daigo Shishika, Xing Wang and Justin Winslow. Their proposed UAS design, dubbed AirEZ, outlined a "fully developed logistics system that can be implemented using available state-of-the-art technology" and it has the ability to "hover, transition quickly into high-speed forward flight, and efficiently transition back to hover for landing."
In addition, AirEZ is equipped with an advanced sensor system that allows it to navigate crowded airspace, like an urban setting, autonomously. By using a simple structural design that can be mass inexpensively produced, the team's delivery system was capable of making deliveries within the prescribed range within two-hours and for less than $10 per package.
The team's faculty advisors are Distinguished Professor Inderjit Chopra and Senior Research Scientist V.T. Nagaraj, and this represents the 12th win in the last 15 years of AHS Student Design Competitions. UMD, one of 14 teams competing this year, placed ahead of both Georgia Tech and Rensselaer Polytechnic Institute in the Graduate category.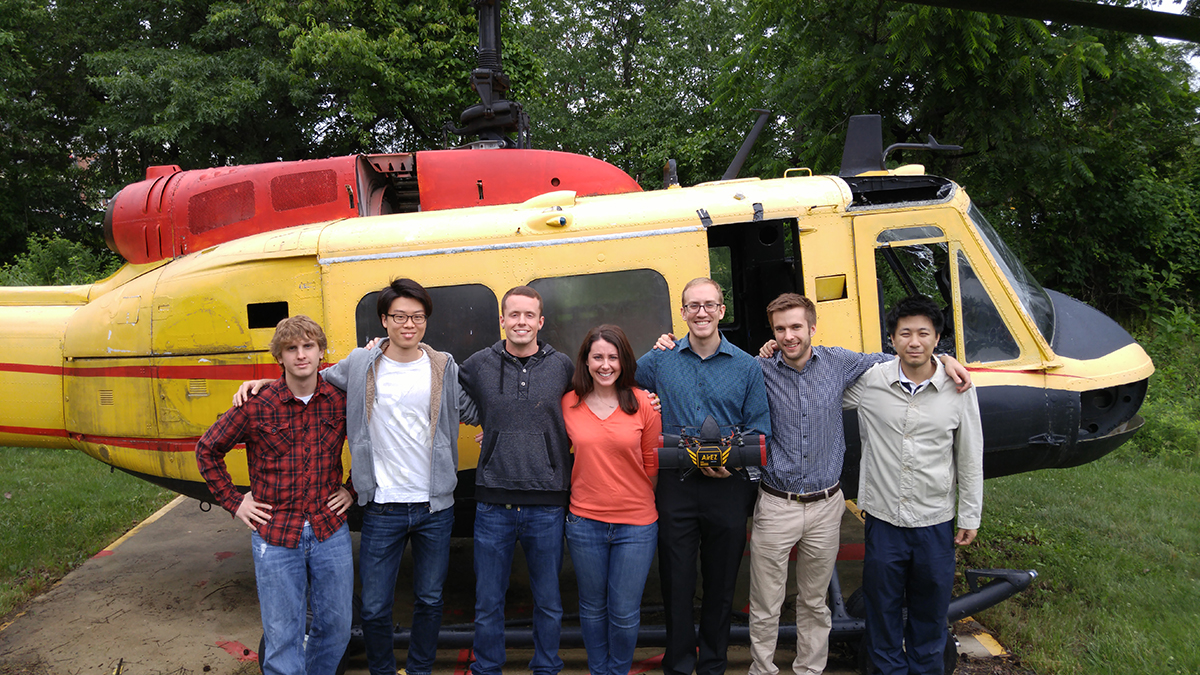 2015 AHS Student Design Team (from left to right) Brandon Gudenius, Daigo Shishika, Chris Bogdanowicz, Stacy Sidle, Brandyn Phillips, Justin Winslow and Xing Wang. While Philips was not a member of the actual design team, he provided the team assistance on building a working prototype of their vehicle design.
The AHS Student Design Competition challenges students to design a vertical lift aircraft that meets specified requirements, providing a practical exercise for engineering students at colleges and universities around the world and promoting student interest in vertical flight technology.
Winning teams receive a cash award, and AHS invites two members of each first-place team to attend AHS International's 72nd Annual Forum and Technology Display—held May 17-19, 2016 in West Palm Beach, Florida, USA—to present the details of their designs.
More information about the AHS Student Design Competition is available at www.vtol.org/sdc.
Published August 25, 2015