Hubbard Co-Authors New Book on Avian-Inspired Robots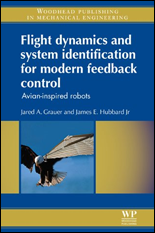 Dr. James E. Hubbard, Jr. from the University of Maryland Morpheus Laboratory and Dr. Jared Grauer of National Aeronautics and Space Administration (NASA) at Langley Research Center have published a new book on avian-inspired robots, Flight Dynamics and System Identification for Modern Feedback Control.
As unmanned aerial vehicles are becoming increasingly popular, flapping-wing design aircraft are of particular interest because they are safe to operate near humans and can carry payloads while achieving maneuverability and agility in low speed flight.
Their application is being applied across a wide variety of fields including, but not limited to: firefighting, search and rescue, atmospheric data collection, and crop surveys. There is an increasing need for improving the performance metrics and requirements of these aircraft.
Hubbard and Grauer's book provides an in-depth study of the difficulties associated with achieving controlled performance in flapping-wing, avian-inspired flight, and demonstrates a new model paradigm using analytical and experimental methods that a controls designer may apply, using familiar tools.
The book's chapters cover flapping-wing aircraft and flight dynamics, nonlinear, multi-body modelling, flight testing, instrumentation, flight test data, feedback control, and linearization.
Flight Dynamics is scheduled to be released November 2013 from Woodward Publishing Limited.
For complete details, or to pre-order a copy, visit Woodwards Publishing Limited's website.
ISBN-13: 978 0 85709 466 7
Published August 20, 2013