Kate Melone Receives NASA JSC Co-op Award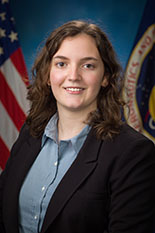 Kate Melone, a member of the National Aeronautics and Space Administration (NASA) Johnson Space Center (JSC) Pathways Intern Employment Program, recently won the NASA JSC Co-op Award for her dedication to excellence in education and professional development. NASA's JSC, also known as Mission Control, serves as the command center for human spaceflight and implements human space programs that span multiple agencies as well as industrial and academic communities.
"I believe I received this award for my hard work, dedication and ability to deliver meaningful results on schedule for the project I am working on related to computational fluid dynamics validation and boundary layer transition model work," said Melone. "I was very humbled to have received the award, and for me it signifies that I am a valuable contributor to the NASA team."
Melone's undergraduate preparation in aerospace engineering has proven to be an excellent foundation for this internship and future opportunities. The course, Space Systems Design (ENAE 484), for example, has offered Melone the opportunity to integrate various technical skills from multiple disciplines and collaborate with the space track aerospace class.
Her various JSC internships have included one rotation in the Biomedical Research and Environmental Sciences Division in the Human Health and Performance Directorate; two rotations in the Crew and Thermal Systems Division in the Engineering Directorate; one rotation in the Flight Dynamics Division in the Flight Operations Directorate; and two rotations in the Aeroscience and Flight Mechanics Division in the Engineering Directorate.
"I have absolutely loved my time so far at NASA JSC, and I want to work [there] full time after graduate school," she says. "Within the field of aerospace engineering, I want to continue to work on furthering human space exploration . . . my long-term goal [is to become] an astronaut on the first round-trip mission to Mars."
Published June 11, 2018