UMD Hosts First High-Speed Rotorcraft Workshop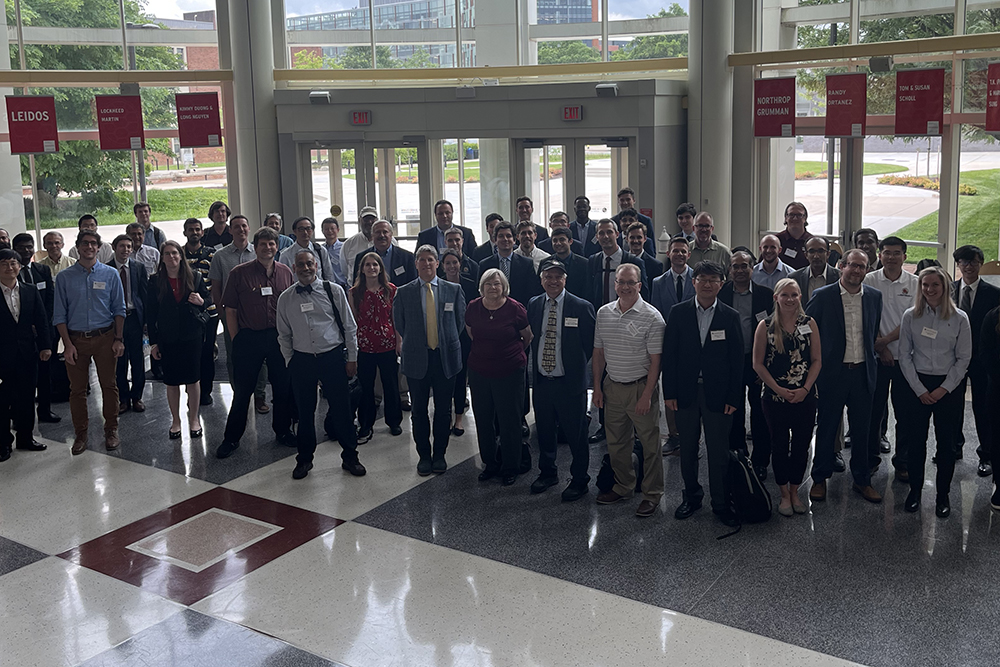 Representatives of major companies, the armed forces, and rotorcraft researchers gathered on June 7 for a first-of-kind workshop hosted by the University of Maryland's (UMD)
A. James Clark School of Engineering
.
The event, organized by Professor
Anubhav Datta
of UMD's Alfred Gessow Rotorcraft Center and by Dr. Hyeonsoo Yeo of the U.S. Army, and inaugurated by Clark School Dean Samuel Graham. Jr., provided an opportunity for UMD to share data relevant to Future Vertical Lift (FVL) technologies, obtained through tests run using unique UMD facilities and equipment. UMD is home to one of three national Vertical Lift Research Centers of Excellence, with the other two located at Georgia Tech and Penn State.
The data will be critical to maintaining a continued U.S. edge in FVL, workshop organizers said.
"Over the last five years, we have built new facilities, including unique test rigs, that no other campus has," Datta said. "We have been conducting high-speed wind-tunnel tests and are getting the data needed by future designers to come up with high-speed designs."
The UMD equipment includes the Maryland Tilt Rotor Rig, which is a scaled-down version of the Bell Boeing V-22 Osprey that can be used to study the performance of advanced tiltrotor blades, hubs, and drives of the future. Tilt rotor aircraft, like the V-22 Osprey, take off vertically but convert to an airplane while in the air. The UMD compound rotor rig, which can house Blackhawklike blades, can study rotorcraft with wings and pusher propellers to increase speeds by up to 50%. The University of Texas at Austin, a partner institute, has a lift-offset coaxial rig similar to Sikorsky's advancing blade concept.
The rigs and supporting facilities at UMD–including hover and vacuum chambers housed at the Alfred Gessow Rotorcraft Center, as well as the university's Glenn Martin Wind Tunnel (currently undergoing repair)–are the key campus assets that enable these unique high-speed tests. While private industry and the Department of Defense (DoD) have similar rigs, UMD is the only academic institution in the U.S. that has such equipment available for basic research and to train graduate students. As a result, the Gessow Center is not only producing critical data, but also building a pipeline of leaders for the future.
"We have grown and expanded these facilities over 40 years, and have a critical mass of rotorcraft faculty who know how to use them," Datta said. "We have always focused on being the driving force behind innovation that breaks fundamental barriers and responds to national needs and inspires U.S. industry and the DoD to scale up and ultimately deploy on the field. Thus, this is not research that just sits on a paper, but gets transitioned rapidly to critical national workforce through our graduate students."
In all, the event drew about 35 in-person participants, while another 80 attended virtually. The attendees included experts and stakeholders from the Air Force, Army, Navy, Bell Textron, Boeing, and Sikorsky. They were joined by the directors of the vertical lift research centers at Georgia Tech and Penn State, as well as UMD partner University of Texas at Austin.
The event will now be an annual occurrence, providing an opportunity for new data and insights to be shared as testing proceeds.
"We have grown and expanded these facilities over 40 years, and have a critical mass of rotorcraft faculty who know how to use them. We have always focused on being the driving force behind innovation that breaks fundamental barriers and responds to national needs and inspires U.S. industry and the DOD to scale up and ultimately deploy on the field. Thus, this is not research that just sits on a paper, but gets transitioned rapidly to critical national workforce through our graduate students."
Published July 7, 2022