UMD Transplant Organ Flight Named Invention of the Year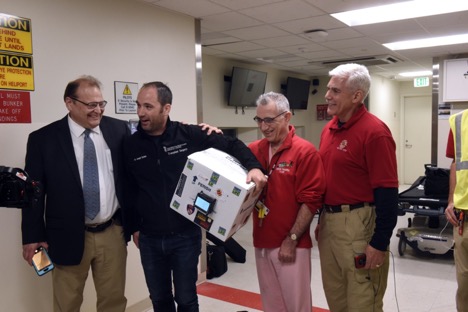 The results are in—and a pioneering drone flight carried out by the University of Maryland (UMD) won recognition as Invention of the Year at the 2019 Baltimore Technical.ly Awards. The results were announced at a gala event in Baltimore on Wednesday (October 9), capping Baltimore Innovation Week.
The April 19 flight, which successfully delivered a kidney for transplant to a waiting recipient, came about through a partnership among the University of Maryland Medical System (UMMS), the Living Legacy Foundation, the UMD Department of Aerospace Engineering, and the UMD Unmanned Aircraft Systems Test Site.
"It's a demonstration of how a group of dedicated, mission-focused partners can collaborate to advance human and societal good," said Matt Scassero, director of the UAS Test Site.
UMD alumnus Luan Duong ('13), project engineer at the Test Site, led the design and construction of customized drone to transport the organ, equipping the vehicle with special safety and stability features to ensure a smooth flight. These included eight rotors—enough to keep the drone in the air even if two should fail—as well as a battery backup, parachutes, and use of a mesh radio network to maintain continuous communication.
The idea was the brainchild of Dr. Joseph Scalea, a multi-organ transplant surgeon at the University of Maryland Medical System (UMMS). Having long witnessed the troubles plaguing conventional delivery methods—including delays that can render a transplant organ non-viable—he became convinced that unmanned aircraft could, in the future, provide a better alternative.
Dr. Norman Wereley, chair of the Department of Aerospace Engineering at the A. James Clark School of Engineering, agreed—and set to work fleshing out the concept. A 2018 paper by Wereley demonstrated the feasibility of organ delivery by drone; it was now up to the UMD UAS Test Site to make it happen. Months of design, construction, and rigorous testing ultimately resulted in a vehicle and operational plan capable of transporting its life-saving cargo safely, swiftly, and reliably.
The endeavor, Wereley said, illustrates what the engineering profession strives for as a whole—the application of technical knowledge and expertise in order to make the crucial leap between idea and innovation.
"For most engineers, possibly the most satisfying aspect of our vocation is being able to use engineering and tools to accomplish a mission that some would deem improbable," Wereley said. "When the mission has the potential to improve quality of life or even save lives, it's especially rewarding."
Scassero, the UMD UAS Test Site director, said he sees the successful organ flight—and recognition such as the Technical.ly award—as offering a glimpse into what will someday become standard practice.
"I believe that UAS delivery of transplant organs will one day become so well-established that we'll marvel it was ever done any other way," Scassero said. "The result will be tangible improvements in safety, reliability, and patient outcomes."
"Technological breakthroughs provide us with the means to do things better," Scassero said. "Our goal at the Test Site is to help bring about this kind of change—and ensure it is done right."
Published October 16, 2019